Invoicing, payment and production start-up
A PROFORMA invoice will be directly established with VAT or without VAT
(if you can provide a VAT number which is approved by European commission VIES).
The PROFORMA invoice will correspond to your approved quotation.
In order to facilitate and to reduce accounting workload, full amount (100%) will have to be paid to our financial account
before production is started stating your invoice number or your pressing reference number as reference.
Example : Example Records production 1606,50€ – communication : FA 2014225 or Example records 001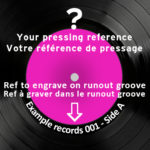 Only after having manufactured and shipped goods, this PROFORMA invoice will be revised,
because in the vinyl record industry, it is important to remember that a production tolerance of :
+/- 10% can be considered up or down to your initial ordered quantity.
Case n°1 / Upwards
For "standard turnaround time" all delivered quantities exceeding your initial order are offered !
(ex : 500 vinyls ordered, 550 vinyls manufactured and delivered = 500 vinyls invoiced)
If you opted for an "urgent turnaround time", quantities manufactured and delivered beyond your initial order are charged !
Case n°2 / Downwards
In case of any manufacturing problems, potential defective products or possible internal handling errors,
we'll adjust final invoice downwards but we'll not re-manufacture erroneous, missing or defective quantity.
In no way, we'll cover your shortfall or potential miscellaneous losses generated by this breach !
(ex : 500 vinyls ordered, 450 vinyls manufactured and delivered = 450 vinyls invoiced)
(ex : 500 vinyls ordered, 50 defective vinyls received = 450 vinyls invoiced)
For presales, limited or numbered edition, we highly suggest you to prevent this eventuality by ordering an additional 10% on your initial order.
PROFORMA will be adjusted with all new changes intervened during the pressing process and will became the FINAL INVOICE !
(Example : New cutting, New test pressings, add fees for new shipping address, etc…)
If this were to be the case, a financial adjustment will be expected in addition or in deduction depending of initial amount already paid.
Reminder :
We insist on the fact that more than ever, as long as we don't receive the full amount (100%) of your PROFORMA invoice to one of our accounts, Vinylium won't start any part of the productions process, whether it's artwork of cutting.
Bare in mind that all processes take time and they can significantly influence your release date if they are delayed, please take note of this.
It is obvious that every change or recut ordered by customer during production process will affect delivery date and final invoice, even having agreed on the initial PROFORMA invoice. Therefore, Vinylium reserves the right to modify your initial PROFORMA invoice at any time and to apply these changes on your final invoice.
I M P O R T A N T
Vinylium is forced to apply a fixed control fee for operating costs and data processing.