Vinylium secures the vinyl pressing of your vinyl record by supervising all manufacturing steps with you,
thanks to its experience and its privileged relationship with vinyl pressing plants in order to provide you a finished product corresponding to your expectations.

VINYLIUM.COM
YOUR VINYL PRESSING EXPERT
VINYLIUM PRESENTATION
Do you want to distribute or broadcast your music on the market and want to manufacture your own vinyl record ?
Vinylium is the best vinyl pressing specialist you need if you're searching for physical support as 7 inch, 10 inch or 12 inch.
With an experience of more than 10 years as vinyl pressing plant first and broker now,
Vinylium has privileged relationships with selected partnerships as vinyl pressing plants, cutting rooms, etc… because of large volumes sent.
Vinylium is able to offer you competitive prices, high quality finished products and fast turnaround time on market.
Vinylium will supervise your personalized vinyl pressing closely because this service is essential for avoiding errors or disapointments at the end.
This service is often forgotten but has proved to be one of the most important stages in the ordering process.
We're offering several physical formats such as :
7″- 7 inch typically called single 45rpm (17cm)
10″ – 10 inch intermediate format (25cm)
12″- 12 inch (140gr & 180gr), most popular format called maxi vinyl or LP album (30cm) in standard black or colored vinyl compound.
Transposing your music on a vinyl support requires a cutting or engraving on LACQUER (acetate / dubplate) or DMM.
Professional cutting room ensures quality cuttings and can even provides full mastering services on demand.
Vinylium has the solution through different partners who mainly use Alpha Toolex machinery (Presses).
Our company provides different possibilities starting at 200 copies in black or coloured vinyls,
and ensures represses of your reference with black or white disco bags, recycled or roughside cardboards,
even if you decide to use white labels or full customized coloured labels.
It is also possible to print personalized outer sleeves for your orders, minimum production quantity will be 200 units.
Vinylium can also provide shrinkwrapping for your records and can supply standard white or black inner sleeves 16 gr with 2 holes,
cardboard outer sleeves or covers as spineless 0mm, 3mm or 5mm spine and 6mm gatefold covers fully printed.
Test pressings are not required at Vinylium but highly recommended.
Whether you are making metal music or electronic techno music … we can send you personalized price quotation on simple demand.
So you can get your vinyl records into vinyl stores through vinyl distribution network very quickly.
If you want to have an idea about our vinyl pressing prices, don't hesitate to download our packages deals
It is difficult to find cheap vinyl record pressing but you will notice that quotes sent by Vinylium offer affordable and competitive prices on the market.
Vinylium is situated in Belgium, heart of Europe, 1 hour from Brussels, 2 hours from Paris France and a few hours from London UK or Berlin Germany.
Vinyl vinyls vynil vynils vinyl pressing vinyl record pressing vinyl pressings vinyl record pressings
EXAMPLE OF PACKAGE DEALS
Popular package deal n°29 (12")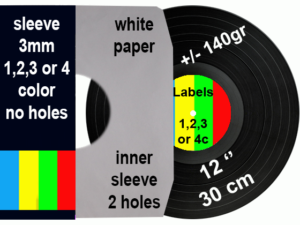 Audio engraving on high quality Acetate lacquer
<14min/side (+2db) compared to DMM cut (Copper)
Full galvanic/silvering process/metalwork
Test pressings to 1 address in Europe (5x)
12" black +/-140gr
full colour labels (1,2,3 or 4 colours)
white paper inner sleeve 2 holes & handling
Full color outer sleeves 3mm spine no holes +/- 300gsm & handling
200 units : 0000.00 € or 0.00 € each excl taxes and shipping costs
300 units : 2169.60 € or 7.23 € each excl taxes and shipping costs
500 units : 2623.50 € or 5.25 € each excl taxes and shipping costs

VINYLIUM SWITZERLAND
Vinylium Belgium has no relation with Vinylium Switzerland which manufactured the Vinylium dubplate cutter
and is not able to provide any recording equipments or spare parts for this cutting machine,
but if you're searching for professional equipment or repair service for your record cutting lathe machine,
we invite you to visit Vinylium Switzerland
Any questions ?
You can find all answers to your questions by visiting our website, they are just a click away !
Our actual turnaround times WITH or WITHOUT test pressings are :
Standard 12″ : +/- 8 weeks
Standard 10″ : +/- 8 weeks
Standard 7″ small holes : +/- 8 weeks
Standard 7″ big holes : +/- 8 weeks
Urgent : Not provided
Represses : Not provided
from receipt of all elements (audio, artwork & payment).
For more info, please  contact us
Last update : 2023.03.06